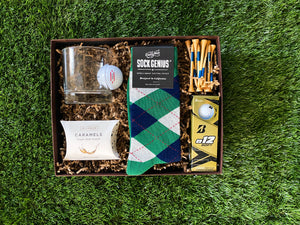 Just Boxx It
Golf Enthusiast: 19th Hole Edition
Regular price
$69.99
$69.99
Unit price
per
 Can be Branded with Company Branding Kit (min 25).
What's in the Box
Golf Ball Glass by BENSHOT
Clubs down bottoms up.
These 11oz rocks glasses are high-quality, heavy, and handcrafted in Wisconsin. All packaging and raw materials are made in the USA. 
Made with real Titleist golf balls.
* Please note that each glass is unique and hand crafted by expert glass makers!
Bridgestone Performance Golf Balls
Distance Performance class, 3-piece surlyn golf ball that delivers sidespin reducing performance, with added distance off the tee with a softer feel. The e12 SOFT utilizes Bridgestone's Delta Wing Dimple pattern for less drag and optimized aerodynamics in the cover.
ProLength PLUS Plastic Golf Tees by PRIDE GOLF TEE
Pride Golf Tee is well known as one of the highest rated brands in golf. The main reason why these tees are so highly rated is because they're practically indestructible.  It's said that you're more likely to lose them than to break them. Pride Golf ProLength-Plus 3-1/4" Tees (white) Tee your ball up correctly. Pride Performance™ Plastic golf tees are a specialized tee constructed with top-grade ABS material, which gives them unmatched durability, lasting for more drives than traditional tees. Performance™ tees are engineered with special low-resistant heads that creates less friction between the tee and the golf ball during impact resulting in longer drives! Made in USA
Argyle Socks by Sock Genius
Put some prep in your step. Our Westminster Argyle socks feature a classic argyle pattern in bold colors for a signature look that surely won't go unnoticed. Made of carded cotton for added comfort and durability. 
Single Malt Scotch Caramels by McCrea's Caramels
Peaty and rich, spiked with smoky Ardmore Scotch. Intoxicating flavor, no hangover.
INGREDIENTS: Fresh Milk, Fresh Cream, Cane Sugar, Inverted Cane Sugar, Tapioca Syrup, Single Malt Scotch (alcohol 40%), Butter (cream, salt), Molasses, Salt.
CONTAINS: Milk.
---
Share this Product
---